About Us

Our History
The Sultan's Kitchen Indian restaurant opened its doors in early May 1983 as a humble BYO at the Toowong-end of Milton Road. Twenty-two years on, it has grown and expanded into Brisbane's most acclaimed and awarded Indian restaurant.

Located in Paddington, the restaurant décor combines a warm and seductive interior with the sparkle and colour of contemporary India.

Our Mission
Our mission is to create a truly great dining experience, combining spectacular Indian food, attentive service in a happy and memorable atmosphere.
To action this, we understand everything starts with the guest. Hence, the voice of the customer is the touchstone of all our efforts. We encourage our staff to listen to your needs and deliver beyond your expectations. This has been the secret to our long term competitive edge.

Our Difference
Our meals are cooked in the premises using only the freshest ingredients
Our cooking is done with natural herbs and spices. No MSG is used in Indian food.

Only grain fed beef is used with a special emphasis on seasonal fish and vegetables
Established in 1980, our history is highlighted with numerous industry awards and benchmarks

Satisfaction guarantee. We take a great deal of time and pride preparing our meals for you. If you are not absolutely 100% satisfied, please tell us.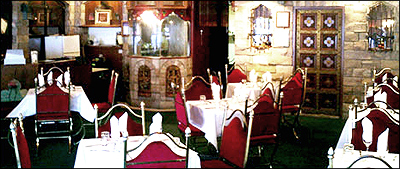 Our Excellence
Over the years the Sultan's Kitchen restaurant has received numerous awards and accolades including the much coveted American Express Restaurant of the Year award, Pataks Indians Restaurant of the Year award and the Catering Trade Fair Association of Queensland Gold Plate Award.

Apart from the thousands of everyday customers who have dined at our restaurant, we have also had the pleasure of sharing our food with some not-so ordinary diners, such as David Bowie, Duran D, Joe Cocker, Englebert Humperdink, Rolf Harris, Carlos Santana, Billy Connelly, Bob Hawke, Garfield Sobers, Wayne Goss, Peter Beatie and the Brisbane Broncos.

As you will see, your stay with us is important. Hence, we make no compromise in the quality of food or the standard of service we extend to you.